It's Not a Perfect Thing: Facilitating an Independent Engineering Fair with Fifth Grade Students
Keywords:
elementary, engineering, science, engineering teaching self-efficacy, teacher experience
Abstract
Elementary science education calls on teachers to facilitate student learning of the content of science while they engage in the work of scientists. Additionally, recent national and state standards incorporate the practices of engineering into science education throughout grades K-12. However, many practicing teachers receive little to no professional development related to this shift in educational practice for the science classroom. To exasperate the issue, elementary teachers are generalists by nature without content or practical expertise in science and engineering content or practices. This study investigated how two fifth-grade teachers experienced co-facilitating an independent engineering fair with their students. The findings from this study can inform the ways in which teacher educators can support the incorporation of authentic engineering practice in the elementary classroom.
References
Bandura, A. (1977). Self-efficacy: Toward a unifying theory of behavioral change. Psychological Review, 84(2), 191–215. https://doi.org/10.1037/0033-295x.84.2.191
Bandura, A. (1986). The explanatory and predictive scope of self-efficacy theory. Journal of Social and Clinical Psychology, 4(3), 359–373.
Banilower, E. R., Smith, P. S., Weiss, I. R., Malzahn, K. M., Campbell, K. M., & Weis, A. M. (2013). Report of the 2012 national survey of science and mathematics education. Chapel Hill, NC: Horizon Research, Inc.
Bellipanni, L. J., & Lilly, J. E. (1999). What have researchers been saying about science fairs? Science and Children, 36, 46–50.
Carrier, S. J. (2006). The road to stress-free science fairs. Science and Children, 44(1), 36–39.
Carter, K. (1993). The place of story in the study of teaching and teacher education. Educational Researcher, 22(1), 5–18. https://doi.org/10.3102/0013189x022001005
Conle, C. (2000). Narrative Inquiry: Research tool and medium for professional development. European Journal of Teacher Education, 23(1), 49–63. https://doi.org/10.1080/713667262
Connelly, F. M., & Clandinin, D. J. (1990). Stories of experience and narrative inquiry. Educational Researcher, 19(5), 2–14.
Coppola, M. P. (2019). Preparing preservice elementary teachers to teach engineering: Impact on self-efficacy and outcome expectancy. School Science and Mathematics, 119, 161–170. https://doi.org/10.1111/ssm.12327
Cunningham, C. (2008). Elementary teacher professional development in engineering: Lessons learned from engineering is elementary. Annual Conference & Exposition. https://doi.org/10.18260/1-2--4414
Cunningham, C. M., & Lachapelle, C. P. (2014). Designing engineering experiences to engage all students. Engineering in Pre-College Settings: Synthesizing Research, Policy, and Practices, 117–140. https://doi.org/10.2307/j.ctt6wq7bh.10
Dionne, L., Reis, G., Trudel, L., Guillet, G., Kleine, L., & Hancianu, C. (2012). Students' sources of motivation for participating in science fairs: An exploratory study within the Canada-wide science fair 2008. International Journal of Science and Mathematics Education, 10(3), 669–693. https://doi.org/10.1007/s10763-011-9318-8
Drake, C. (2006). Turning points: Using teachers' mathematics life stories to understand the implementation of mathematics education reform. Journal of Mathematics Teacher Education, 9(6), 579–608. https://doi.org/10.1007/s10857-006-9021-9
Estapa, A. T., & Tank, K. M. (2017). Supporting integrated STEM in the elementary classroom: a professional development approach centered on an engineering design challenge. International Journal of STEM Education, 4, 6. https://doi.org/10.1186/s40594-017-0058-3
Feille, K., & Wildes, A. N. (2021). It's hard, but I can do It: How an ?ndependent engineering fair project can affect student perceptions of science. International Electronic Journal of Elementary Education, 14(1), 23–33. https://doi.org/10.26822/iejee.2021.226
Feille, K., Wildes, A., Pyle, J., & Marshall, J. (2021). Inspiring young minds with an elementary engineering fair. Science and Children, 58(3), 38-42.
Guskey, T. R., & Passaro, P. D. (1994). Teacher efficacy: A study of construct dimensions. American Educational Research Journal, 31(3), 627–643. https://doi.org/10.3102/00028312031003627
Guzey, S. S., Tank, K., Wang, H., Roehrig, G., & Moore, T. (2014). A high?quality professional development for teachers of grades 3–6 for implementing engineering into classrooms. School Science and Mathematics, 114(3), 139–149. https://doi.org/10.1111/ssm.12061
Hammack, R., Ivey, T., T, R. I. H., Hammack, R., & Ivey, T. (2017). Examining elementary teachers' engineering self-efficacy and engineering teacher efficacy. School Science and Mathematics, 117, 52–62. https://doi.org/10.1111/ssm.12205
Lesseig, K., Nelson, T. H., Slavit, D., & Seidel, R. A. (2016). Supporting middle school teachers' implementation of STEM design challenges. School Science and Mathematics, 116, 177–188.
Magee, P. A., & Flessner, R. (2012). Collaborating to improve inquiry-based teaching in elementary science and mathematics methods courses. Science Education International, 23(4), 353–365. http://eric.ed.gov/?id=EJ1001629
Moore, T. J., Tank, K. M., Glancy, A. W., & Kersten, J. A. (2015). NGSS and the landscape of engineering in K-12 state science standards. Journal of Research in Science Teaching. https://doi.org/10.1002/tea.21199
National Research Council (NRC) 2012. A framework for K-12 science education: Practices, crosscutting concepts, and core ideas. Committee on a Conceptual Framework for New K-12 Science Education Standards. Board on Science Education, Division of Behavioral and Social Sciences and Education. The National Academies Press.
Nesmith, S. M., & Cooper, S. (2019). Engineering process as a focus: STEM professional development with elementary STEM-focused professional development schools. 487–498. https://doi.org/10.1111/ssm.12376
NGSS Lead States. (2013). Next generation science standards: For states, by states.
Pleasants, J., Olson, J. K., & Cruz, I. D. L. (2020). Accuracy of elementary teachers' representations of the projects and processes of engineering: Results of a professional development program. Journal of Science Teacher Education, 1–22. https://doi.org/10.1080/1046560x.2019.1709295
Saldaña, J. (2013). The coding manual qualitative researchers (2nd ed.). SAGE Publications Ltd.
Schmidt, K. M. (2014). Science fairs and science Olympiad: Influence on student science inquiry learning and attitudes toward STEM careers and coursework. https://commons.lib.niu.edu/bitstream/handle/10843/17750/Schmidt_niu_0162D_12039.pdf?sequence=1
Stretch, E. J., & Roehrig, G. H. (2021). Framing failure: Leveraging uncertainty to launch creativity in STEM education. International Journal of Learning and Teaching, 123–133. https://doi.org/10.18178/ijlt.7.2.123-133
Sun, Y., & Strobel, J. (2014). From knowing-about to knowing-to: Development of engineering pedagogical content knowledge by elementary teachers through perceived learning and implementing difficulties. American Journal of Engineering Education (AJEE), 5(1), 41–60. https://doi.org/10.19030/ajee.v5i1.8610
Yoon, S., Diefes-Dux, H., & Strobel, J. (2013). First-year effects of an engineering professional development program on elementary teachers. Journal of Engineering Education, 4(1), 67–84.
Yoon, S., Evans, M. G., & Strobel, J. (2014). Validation of the teaching engineering self-efficacy scale for K-12 teachers: A structural equation modeling approach. Journal of Engineering Education. https://doi.org/10.1002/jee.20049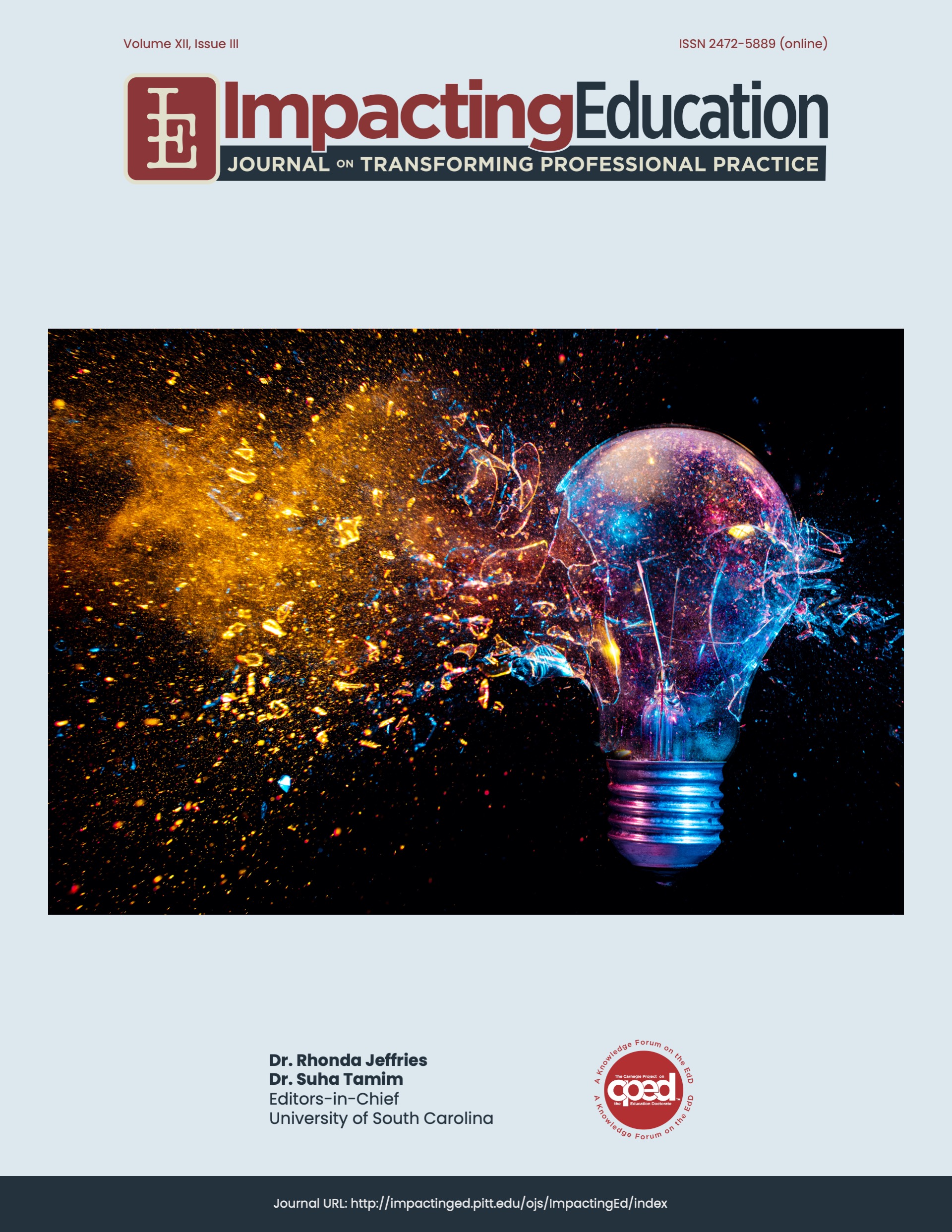 Downloads
How to Cite
Feille, K., Pyle, J., Marshall, J., & Wildes, A. (2022). It's Not a Perfect Thing: Facilitating an Independent Engineering Fair with Fifth Grade Students. Impacting Education: Journal on Transforming Professional Practice, 7(3), 11–19. https://doi.org/10.5195/ie.2022.250
Section
Research Manuscripts
License
Copyright (c) 2022 Kelly Feille, Janet Pyle, Jessica Marshall, Annie Wildes
This work is licensed under a Creative Commons Attribution 4.0 International License.
Authors who publish with this journal agree to the following terms:
The Author retains copyright in the Work, where the term "Work" shall include all digital objects that may result in subsequent electronic publication or distribution.
Upon acceptance of the Work, the author shall grant to the Publisher the right of first publication of the Work.
The Author shall grant to the Publisher and its agents the nonexclusive perpetual right and license to publish, archive, and make accessible the Work in whole or in part in all forms of media now or hereafter known under a Creative Commons Attribution 4.0 International License or its equivalent, which, for the avoidance of doubt, allows others to copy, distribute, and transmit the Work under the following conditions:

Attribution—other users must attribute the Work in the manner specified by the author as indicated on the journal Web site;

with the understanding that the above condition can be waived with permission from the Author and that where the Work or any of its elements is in the public domain under applicable law, that status is in no way affected by the license.
The Author is able to enter into separate, additional contractual arrangements for the nonexclusive distribution of the journal's published version of the Work (e.g., post it to an institutional repository or publish it in a book), as long as there is provided in the document an acknowledgement of its initial publication in this journal.
Authors are permitted and encouraged to post online a prepublication manuscript (but not the Publisher's final formatted PDF version of the Work) in institutional repositories or on their Websites prior to and during the submission process, as it can lead to productive exchanges, as well as earlier and greater citation of published work. Any such posting made before acceptance and publication of the Work shall be updated upon publication to include a reference to the Publisher-assigned DOI (Digital Object Identifier) and a link to the online abstract for the final published Work in the Journal.
Upon Publisher's request, the Author agrees to furnish promptly to Publisher, at the Author's own expense, written evidence of the permissions, licenses, and consents for use of third-party material included within the Work, except as determined by Publisher to be covered by the principles of Fair Use.
The Author represents and warrants that:

the Work is the Author's original work;
the Author has not transferred, and will not transfer, exclusive rights in the Work to any third party;
the Work is not pending review or under consideration by another publisher;
the Work has not previously been published;
the Work contains no misrepresentation or infringement of the Work or property of other authors or third parties; and
the Work contains no libel, invasion of privacy, or other unlawful matter.

The Author agrees to indemnify and hold Publisher harmless from Author's breach of the representations and warranties contained in Paragraph 6 above, as well as any claim or proceeding relating to Publisher's use and publication of any content contained in the Work, including third-party content.
Revised 7/16/2018. Revision Description: Removed outdated link.