Ageism-Induced Anxiety of Job Seekers Aged 50–83: Preliminary Findings from A Phenomenological Case Study Problem of Practice Dissertation
Keywords:
ageism, age discrimination, employment, job search, ADEA
Abstract
Ageism in today's job market has a range of detrimental emotional, psychological, and economic impacts on older job seekers aged 50-83. Even as such job seekers "de-age" their professional documents and online profiles, they still navigate misperceptions about older workers that disadvantage them in the recruitment and hiring process. While anecdotal evidence raises concerns about older job seekers' equitable access to employment, empirical evidence documenting the impacts of ageism on this population remains limited, thus impeding the efficacy of their support systems. This article reports on progress from the qualitative case study that I designed for my CPED-informed Problem of Practice Dissertation that captured data from 30 job seekers, aged 50-83, through one-on-one interviews, focus groups, and questionnaires. This article offers preliminary findings from this research, documenting the negative financial, emotional, psychological, and physical effects of navigating persistent ageism for older job seekers.
References
Ahn, S., & Song, N. K. (2017). Unemployment, recurrent unemployment, and material hardships among older workers since the great recession. Social Work Research, 41(4), 249-262. https://doi.org/10.1093/swr/svx020
Barrington, L. (2015). Ageism and bias in the American workplace. Generations, 39(3), 34-38.
Clark, K. A. (2012). Long-term unemployment among the baby boom generation: An exploration of coping strategies and subjective well-being [Ph.D. Dissertation, Fielding Graduate University]. ProQuest
Creswell, J. W., & Clark, V. L. P. (2018). Designing and conducting mixed methods research (3rd ed.). Sage.
Creswell, J. W., & Creswell, J. D. (2018). Research design: Qualitative, quantitative, and mixed methods approaches (5th ed.). Sage.
Creswell, J. W., & Poth, C. N. (2018). Qualitative inquiry & research design: Choosing among five approaches (4th ed.). Sage.
Dejours, C., Deranty, J.-P., Renault, E., & Smith, N. H. (2018). The return of work in critical theory: Self, society, politics. Columbia University Press.
Denzin, N. K. (2007). Triangulation. In G. Ritzer (Ed.), The Blackwell encyclopedia of sociology (Vol. 10, pp. 5075-5080). Blackwell.
Denzin, N. K., & Lincoln, Y. S. (Eds.). (2005). The Sage handbook of qualitative research (3rd ed.). Sage.
Friedman, H., Friedman, L., & Leverton. (2016). Increase diversity to boost creativity and enhance problem solving. Psychological Issues in Human Resource Management, 4(2), 7-33.
Gibson, J. W., Jones, J. P., Cella, J., Clark, C., Epstein, A., & Haselberger, J. (2010). Ageism and the baby boomers: Issues, challenges and the team approach. Contemporary Issues in Education Research, 3(1), 53-60. https://doi.org/10.19030/cier.v3i1.161
Grossman, R. J. (2013). Invest in older workers. HR Magazine, 58(8), 20-25.
Heisler, W., & Bandow, D. (2018). Retaining and engaging older workers: A solution to worker shortages in the U.S. Business Horizons, 61(3), 421-430. https://doi.org/10.1016/j.bushor.2018.01.008
Hoffman, R. L., & Perry, J. A. (2016). The CPED framework: Tools for change. In J. A. Perry (Ed.), The EdD and the scholarly practitioner: The CPED path (pp. 13-26). Information Age.
Horkheimer, M., & O'Connell, M. J. (1972). Critical theory: Selected essays. Continuum.
Hujsak, J. (2015, December). Older workers: The value proposition-A sustainable enterprise imperative. Cost Management, 29(6), 6-15.
Jones, S. J. (2016). Change leadership and support for the CPED-influenced education doctorate. In J. A. Perry (Ed.), The EdD and the scholarly practitioner: The CPED path (pp. 27-44). Information Age.
Koeber, C., & Wright, D. W. (2001). W/age bias in worker displacement: How industrial structure shapes the job loss and earnings decline of older American workers. The Journal of Socio-Economics, 30(4), 343-352. https://doi.org/10.1016/S1053-5357(01)00104-4
Lahey, J. N. (2005). Do older workers face discrimination? Center for Retirement Research at Boston College. https://crr.bc.edu/briefs/do-older-workers-face-discrimination/
Lesonsky, R. (2017, September 18). Small business trends: 8 signs of ageism in the workplace and what to do about them. Newstex Entrepreneurship Blogs. http://search.proquest.com/docview/1939712583/citation/D3A138FA00F54167PQ/1
Lincoln, Y. S., & Guba, E. G. (1986). But is it rigorous? Trustworthiness and authenticity in naturalistic evaluation. New Directions for Program Evaluation, 1986(30), 73-84. https://doi.org/10.1002/ev.1427
Lyons, B. J., Wessel, J. L., Tai, Y. C., & Ryan, A. M. (2014). Strategies of job seekers related to age-related stereotypes. Journal of Managerial Psychology, 29(8), 1009-1027. http://dx.doi.org/10.1108/JMP-03-2013-0078
Malinen, S., & Johnston, L. (2013). Workplace ageism: Discovering hidden bias. Experimental Aging Research, 39(4), 445-465. https://doi.org/10.1080/0361073X.2013.808111
Mandal, B., Ayyagari, P., & Gallo, W. T. (2011). Job loss and depression: The role of subjective expectations. Social Science & Medicine, 72(4), 576-583. https://doi.org/10.1016/j.socscimed.2010.11.014
Mertens, D. M. (2009). Transformative research and evaluation. Guilford.
Miles, M. B., Huberman, A. M., & Saldaña, J. (2020). Qualitative data analysis: An expanded sourcebook (4th ed.). Sage.
Naderifar, M., Goli, H., & Ghaljaie, F. (2017). Snowball sampling: A purposeful method of sampling in qualitative research. Strides in Development of Medical Education, 14(3). https://doi.org/10.5812/sdme.67670
Patton, M. Q. (2014). Qualitative research & evaluation methods: Integrating theory and practice. Sage.
Perry, J. A. (2013). Carnegie Project on the Education Doctorate: The education doctorate-a degree for our time. Planning & Changing, 44(3/4), 113-126.
Powell, M. (2010). Ageism and abuse in the workplace: A new frontier. Journal of Gerontological Social Work, 53(7), 654-658. https://doi.org/10.1080/01634372.2010.508510
Rippon, I., Kneale, D., de Oliveira, C., Demakakos, P., & Steptoe, A. (2014). Perceived age discrimination in older adults. Age and Ageing, 43(3), 379-386. https://doi.org/10.1093/ageing/aft146
Roscigno, V. J. (2010). Ageism in the American workplace. American Sociological Association, 9(1), 16-21. https://doi.org/10.1525/ctx.2010.9.1.16
Smith, J., Blevins, B., Werse, N. R., & Talbert, S. (2020). Researcher positionality in the dissertation in practice. In R. Throne (Ed.), Practice-based and practice-led research for dissertation development (pp. 43-63). IGI Global.
Stark, E. (2009). Fractures, fissures, and fault lines: Challenges accompanying baby boomers retaining employment in a recovering U.S. economy. Journal of Applied Management and Entrepreneurship, 14(3), 3-26.
Stypinska, J., & Turek, K. (2017). Hard and soft age discrimination: The dual nature of workplace discrimination. European Journal of Ageing, 14(1), 49-61. https://doi.org/10.1007/s10433-016-0407-y
U.S. Department of Labor, Bureau of Labor Statistics. (2018). Age discrimination. U.S. Department of Labor, Bureau of Labor Statistics. https://www.dol.gov/general/topic/discrimination/agedisc
van Manen, M. (2014). Phenomenology of practice: Meaning-giving methods in phenomenological research and writing. Left Coast Press.
Veldon, B. (2013). Ageism and age discrimination in the workplace. CRIS-Bulletin of the Centre for Research and Interdisciplinary Study, 2013(2), 33-41. https://doi.org/10.2478/cris-2013-0008
Wanberg, C. R., Kanfer, R., Hamann, D. J., & Zhang, Z. (2016). Age and reemployment success after job loss: An integrative model and meta-analysis. Psychological Bulletin, 142(4), 400-426. https://doi.org/10.1037/bul0000019
World Health Organization [WHO]. (2019). Ageism. WHO. Int. http://www.who.int/ageing/ageism/en/
Yin, R. K. (2013). Case study research and applications: Design and methods (5th ed.). Sage.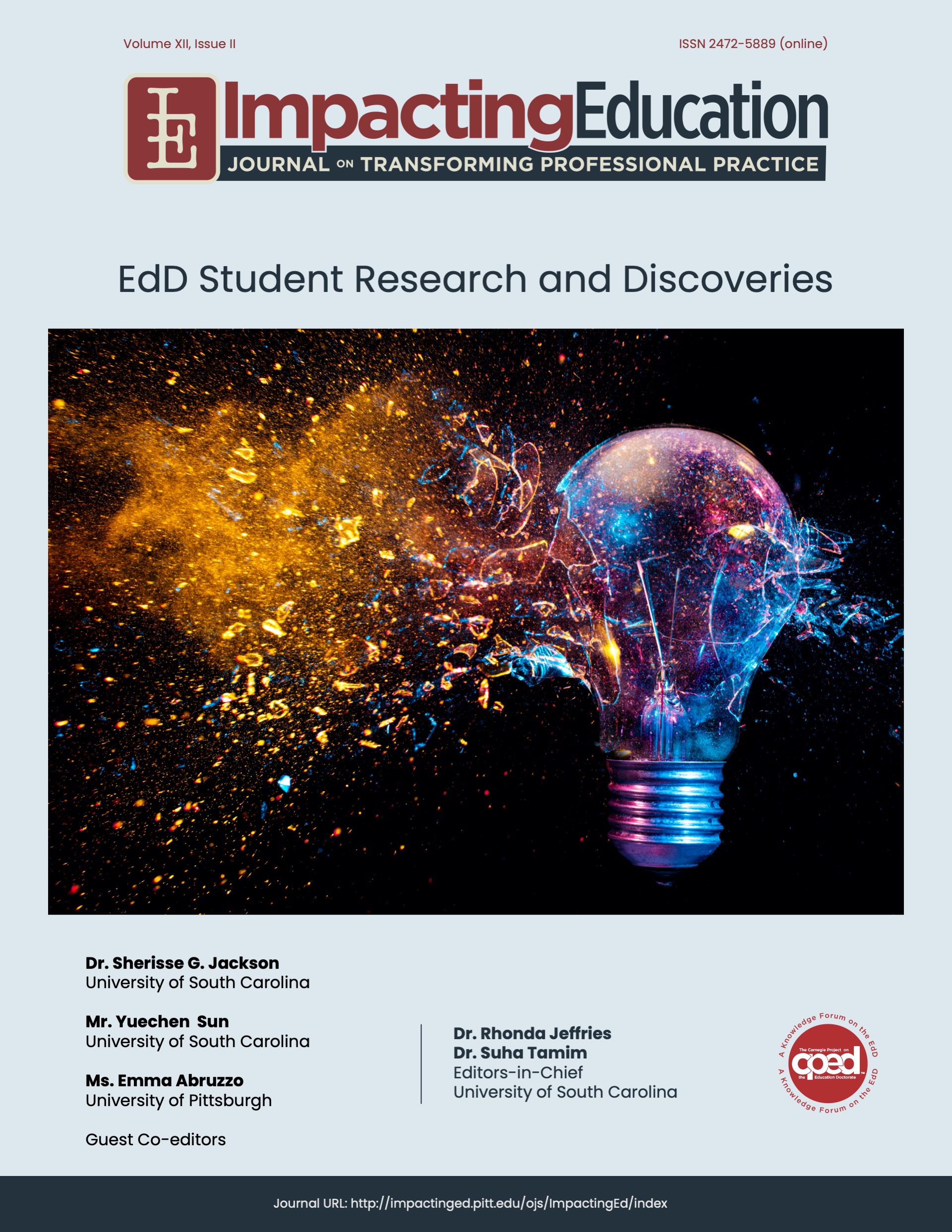 Downloads
How to Cite
Franz, N. E., Werse, N. R., & Talbert, T. L. (2022). Ageism-Induced Anxiety of Job Seekers Aged 50–83: Preliminary Findings from A Phenomenological Case Study Problem of Practice Dissertation. Impacting Education: Journal on Transforming Professional Practice, 7(2), 11–18. https://doi.org/10.5195/ie.2022.199
Section
Themed - Student Research
License
Authors who publish with this journal agree to the following terms:
The Author retains copyright in the Work, where the term "Work" shall include all digital objects that may result in subsequent electronic publication or distribution.
Upon acceptance of the Work, the author shall grant to the Publisher the right of first publication of the Work.
The Author shall grant to the Publisher and its agents the nonexclusive perpetual right and license to publish, archive, and make accessible the Work in whole or in part in all forms of media now or hereafter known under a Creative Commons Attribution 4.0 International License or its equivalent, which, for the avoidance of doubt, allows others to copy, distribute, and transmit the Work under the following conditions:

Attribution—other users must attribute the Work in the manner specified by the author as indicated on the journal Web site;

with the understanding that the above condition can be waived with permission from the Author and that where the Work or any of its elements is in the public domain under applicable law, that status is in no way affected by the license.
The Author is able to enter into separate, additional contractual arrangements for the nonexclusive distribution of the journal's published version of the Work (e.g., post it to an institutional repository or publish it in a book), as long as there is provided in the document an acknowledgement of its initial publication in this journal.
Authors are permitted and encouraged to post online a prepublication manuscript (but not the Publisher's final formatted PDF version of the Work) in institutional repositories or on their Websites prior to and during the submission process, as it can lead to productive exchanges, as well as earlier and greater citation of published work. Any such posting made before acceptance and publication of the Work shall be updated upon publication to include a reference to the Publisher-assigned DOI (Digital Object Identifier) and a link to the online abstract for the final published Work in the Journal.
Upon Publisher's request, the Author agrees to furnish promptly to Publisher, at the Author's own expense, written evidence of the permissions, licenses, and consents for use of third-party material included within the Work, except as determined by Publisher to be covered by the principles of Fair Use.
The Author represents and warrants that:

the Work is the Author's original work;
the Author has not transferred, and will not transfer, exclusive rights in the Work to any third party;
the Work is not pending review or under consideration by another publisher;
the Work has not previously been published;
the Work contains no misrepresentation or infringement of the Work or property of other authors or third parties; and
the Work contains no libel, invasion of privacy, or other unlawful matter.

The Author agrees to indemnify and hold Publisher harmless from Author's breach of the representations and warranties contained in Paragraph 6 above, as well as any claim or proceeding relating to Publisher's use and publication of any content contained in the Work, including third-party content.
Revised 7/16/2018. Revision Description: Removed outdated link.