Reading Research for Writing: Co-Constructing Core Skills Using Primary Literature
Keywords:
critical reading skills, categorical reading method, doctoral education, reading for writing, sociocultural theory, social collaborative annotation
Abstract
Synthesizing academic literature into new knowledge through writing is a core skill that doctoral students engaged in research must learn. However, developing efficacy in synthesis skills as an academic writer is a culturally and cognitively demanding process that occurs over many years, requires abstraction, and draws upon critical reading skills. Doctoral reading is an invisible part of training, despite large reading loads in doctoral coursework. Further, reading, writing, and researching skills are co-constructed at the doctoral level as previously described by Kwan (2008). The purpose of this essay is to describe how the primary author used her experience as an EdD student, science teacher, and writer to develop a method that addresses doctoral reading challenges. The novel method described here combines categorical reading strategies with social collaborative annotation (SCA). This method centers on active, categorial reading to deconstruct arguments in the primary literature by identifying claim, evidence, reasoning, implications, and context (CERIC), which can serve as a critical reading pedagogy in existing courses, reading clubs, and seminars. Combining CERIC with SCA tools—ranging from homemade variations of Google Suite to purposeful annotation software, such as Hypothes.is.—can support an efficient doctoral reading process. This essay illustrates several worked examples and explores how this process supports retrieval, engagement, collaboration, inclusion, and community, particularly in online learning environments. Significant implications of this work are to make hidden reading expectations explicit and transform professor-centered transmission models of learning to student-centered sociocultural models of learning. The essay proposes next steps for testing the approach's effectiveness in online doctoral learning.
References
Abdullah, C., Parris, J., Lie, R., Guzdar, A., & Tour, E. (2015). Critical analysis of primary literature in a master's-level class: Effects on self-efficacy and science-process skills. CBE Life Sciences Education, 14(3). https://doi.org/10.1187/cbe.14-10-0180
Ahmad, S. Z. (2019). Impact of Cornell Notes vs. REAP on EFL secondary school students' critical reading skills. International Education Studies, 12(10), 60-74.
Aitchison, C., Catterall, J., Ross, P., & Burgin, S. (2012). "Tough love and tears": Learning doctoral writing in the sciences. Higher Education Research and Development, 31(4), 435-447. https://doi.org/10.1080/07294360.2011.559195
Alexander, P. A., Schallert, D. L., & Reynolds, R. E. (2009). What is learning anyway? A topographical perspective considered. Educational Psychologist, 44(3), 176-192. https://doi.org/10.1080/00461520903029006
Alguire, P. C. (1998). A review of journal clubs in postgraduate medical education. Journal of General Internal Medicine, 13(5), 347-353. https://doi.org/https://doi.org/10.1046/j.1525-1497.1998.00102.x
Anuar, N., & Sidhu, G. K. (2017). Critical reading skills: A survey of postgraduate students' perspective of critical reading. Pertanika Journal of Social Sciences and Humanities, 25(February), 163-172.
Berry, S. (2017). Building community in online doctoral classrooms: Instructor practices that support community. Online Learning Journal, 21(2). https://doi.org/10.24059/olj.v21i2.875
Bjorn, G. (2018). Love the lab, hate the lab report? The Science Teacher, 85(4). https://doi.org/10.2505/4/tst18_085_04_22
Boote, D. N., & Beile, P. (2005). Scholars before researchers: On the centrality of the dissertation literature review in research preparation. Educational Researcher, 34(6), 3-15.
Bresser, R., Melanese, K., & Sphar, C. (2009). Supporting English language learners in math class, grades K-2. Math Solutions.
Brown, J. S., Collins, A., & Duguid, P. (2007). Situated cognition and the culture of learning. Educational Researcher, 18(1), 32-42.
Brown, P. C., Roediger, H. L., & McDaniel, M. A. (2014). Make it stick: The science of successful learning. The Belknap Press of Harvard University Press. http://ebookcentral.proquest.com/lib/jhu/detail.action?docID=3301452
Brown, R. A. J., & Renshaw, P. D. (2000). Collective argumentation: A sociocultural approach to reframing classroom teaching and learning. In H. Cowie & G. van der Aalsvoort (Eds.), Social interaction in learning and instruction: The meaning of discourse for the construction of knowledge (pp. 52-66). Pergamon/Elsevier Science Inc.
Chen, B. (2019). Designing for networked collaborative discourse: An unLMS approach. TechTrends, 63(2), 194-201. http://doi.org/10.1007/s11528-018-0284-7
Cho, M. H., & Tobias, S. (2016). Should instructors require discussion in online courses? Effects of online discussion on community of inquiry, learner time, satisfaction, and achievement. International Review of Research in Open and Distance Learning, 17(2), 123-140. https://doi.org/10.19173/irrodl.v17i2.2342
Cohn, J. (2019). Talking back to texts: An introduction to putting the "social" in "social annotation." In A. J. Reid (Ed.), Marginalia in Modern Learning Contexts (pp. 1-16). IGI Global.
Cotterall, S. (2011). Doctoral students writing: Where's the pedagogy? Teaching in Higher Education, 16(4), 413. https://doi.org/10.1080/13562517.2011.560381
Council of Graduate Schools. (2010). The Ph.D. completion project.
Davis, F. D., Bagozzi, R. P., & Warshaw, P. R. (1989). User acceptance of computer technology: A comparison of two models. Management Science, 35(8), 982. https://doi.org/10.1287/mnsc.35.8.982
Galikyan, I., & Admiraal, W. (2019). Students' engagement in asynchronous online discussion: The relationship between cognitive presence, learner prominence, and academic performance. The Internet and Higher Education, 43. https://doi.org/10.1016/j.iheduc.2019.100692
Gao, F. (2013). A case study of using a social annotation tool to support collaboratively learning. The Internet and Higher Education, 17, 76-83.
Gottesman, A. J., & Hoskins, S. G. (2013). CREATE Cornerstone: Introduction to scientific thinking, a new course for STEM-interested freshmen, demystifies scientific thinking through analysis of scientific literature. CBE Life Sciences Education, 12(1), 59-72. https://doi.org/10.1187/cbe.12-11-0201
Graham, S., Liu, X., Bartlett, B., Ng, C., Harris, K. R., Aitken, A., Barkel, A., Kavanaugh, C., & Talukdar, J. (2018). Reading for writing: A meta-analysis of the impact of reading interventions on writing. Review of Educational Research, 88(2), 243-284. https://doi.org/10.3102/0034654317746927
Hollett, T., & Kalir, J. H. (2017). Mapping playgrids for learning across space, time, and scale. TechTrends, 61(3), 236-245. https://doi.org/10.1007/s11528-016-0138-0
Hoskins, S. G., Stevens, L. M., & Nehm, R. H. (2007). Selective use of the primary literature transforms the classroom into a virtual laboratory. Genetics, 176(3), 1381-1389. https://doi.org/10.1534/genetics.107.071183
Hudson, T. (2009). Teaching second language reading. Oxford University Press.
Ivanic, R. (1998). Writing and identity (Vol. 10). John Benjamins.
Johannsen, J., & Sun, Y. (2017). An intelligent and semantics-aware distraction-free writing system. 2017 IEEE 11th International Conference on Semantic Computing (ICSC), 465-468. https://doi.org/10.1109/ICSC.2017.23
Kalir, J. H. (2020). Social annotation enabling collaboration for open learning. Distance Education, 41(2), 245-260.
Kalir, J. H., & Garcia, A. (2021). Annotation. MIT Press.
Kararo, M., & McCartney, M. (2019). Annotated primary scientific literature: A pedagogical tool for undergraduate courses. PLoS Biology, 17(1), 1-9. https://doi.org/10.1371/journal.pbio.3000103
Kluyver, T., Ragan-Kelley, B., Fernando Pérez, Granger, B., Bussonnier, M., Frederic, J., Kelley, K., Hamrick, J., Grout, J., Corlay, S., Ivanov, P., Avila, D., Abdalla, S., & Willing, C. (2016). Jupyter Notebooks – a publishing format for reproducible computational workflows. In F. Loizides & B. Schmidt (Eds.), Positioning and power in academic publishing: Players, agents and agendas (pp. 87–90). IOS Press.
Krishnan, A. (2009). What Are academic disciplines? Some observations on the disciplinarity vs. interdisciplinarity debate (Issue July). http://eprints.ncrm.ac.uk/783/
Krummheuer, G. (1995). The ethnography of argumentation. In P. Cobb & H. Bauersfeld (Eds.), Studies in mathematical thinking and learning series. The emergence of mathematical meaning: Interaction in classroom cultures (pp. 229-269). Lawrence Erlbaum Associates, Inc.
Kwan, B. S. C. (2008). The nexus of reading, writing and researching in the doctoral undertaking of humanities and social sciences: Implications for literature reviewing. English for Specific Purposes, 27(1), 42-56.
Kwan, B. S. C. (2009). Reading in preparation for writing a PhD thesis: Case studies of experiences. Journal of English for Academic Purposes, 8(3), 180-191. https://doi.org/10.1016/j.jeap.2009.02.001
Larreamendy-Joerns, J., & Leinhardt, G. (2006). Going the distance with online education. Review of Educational Research, 76(4), 567-605. https://doi.org/10.3102/00346543076004567
Lave, J., & Wenger, E. (2012). Situated learning: Legitimate peripheral participation. Situated Learning, 27-44. https://doi.org/10.1017/cbo9780511815355.003
Letchford, J., Corradi, H., & Day, T. (2017). A flexible e-learning resource promoting the critical reading of scientific papers for science undergraduates. Biochemistry and Molecular Biology Education, 45(6), 483–490. https://doi.org/10.1002/bmb.21072
Levine, E. (2001). Reading your way to scientific literacy: Interpreting scientific articles through small group discussions. Source Journal of College Science Teaching, 31(2).
Lie, R., Abdullah, C., He, W., & Tour, E. (2016). Perceived challenges in primary literature in a master's class: Effects of experience and instruction. CBE Life Sciences Education, 15(4), 1-12. https://doi.org/10.1187/cbe.15-09-0198
Martin, F., & Bolliger, D. U. (2018). Engagement matters: Student perceptions on the importance of engagement strategies in the online learning environment. Online Learning Journal, 22(1), 205-222. https://doi.org/10.24059/olj.v22i1.1092
Matarese, V. (2013). Using strategic, critical reading of research papers to teach scientific writing: The reading–research–writing continuum. In Valerie Matarese (Ed.), Supporting Research Writing (pp. 73-89). Chandos Publishing. https://doi.org/https://doi.org/10.1016/B978-1-84334-666-1.50005-9
McAlpine, L. (2012). Shining a light on doctoral reading: Implications for doctoral identities and pedagogies. Innovations in Education and Teaching International, 49(4), 351-361.
Moore, M. G., & Diehl, W. C. (Eds.). (2018). Handbook of distance education (4th ed.). Routledge. https://doi.org/doi-org.proxy1.library.jhu.edu/10.4324/9781315296135
Norris, S. P., & Phillips, L. M. (2003). How literacy in its fundamental sense is central to scientific literacy. Science Education, 87(2), 224-240.
Novak, E., Razzouk, R., & Johnson, T. E. (2012). The educational use of social annotation tools in higher education: A literature review. Internet and Higher Education, 15(1), 39-49. https://doi.org/10.1016/j.iheduc.2011.09.002
Osborne, J., Enduran, S., & Simon, S. (2004). Enhancing the quality of argumentation in school science. Journal of Research in Science Teaching, 41(10), 994-1020.
Reid, A. J. (2014). A case study in social annotation of digital text. Journal of Applied Learning Technology, 4(2).
Ritchey, K. A., & List, A. (2021). Task-oriented reading: A framework for improving college students' reading compliance and comprehension. College Teaching, 1-16.
Shimic, G. (2008). Technology enhanced learning tools. In Technology lnhanced Learning: Best practices. https://doi.org/10.4018/978-1-59904-600-6.ch001
Sverdlik, A., Hall, N. C., McAlpine, L., & Hubbard, K. (2018). The PhD experience: A review of the factors influencing doctoral students' completion, achievement, and well-being. International Journal of Doctoral Studies, 13. https://doi.org/10.28945/4113
Tirado, R., Hernando, Á., & Aguaded, J. I. (2015). The effect of centralization and cohesion on the social construction of knowledge in discussion forums. Interactive Learning Environments, 23(3), 293–316. https://doi.org/10.1080/10494820.2012.745437
Toulmin, S., Rieke, R., & Janik, A. (1984). Argumentation in science. In An introduction to reasoning. Macmillan Publishing.
van Pletzen, E. (2006). A body of reading: Making "visible" the reading experiences of first-year medical students. In L. Thesen, E. van Pletzen, & N. S. Ndebele (Eds.), Academic literacy and the languages of change (pp. 104-129). Continuum International Publishing Group.
Vygotsky, L. S. (1978). Mind in society: The development of higher psychological processes. Harvard University Press.
Zywica, J., & Gomez, K. (2008). Annotating to support learning in the content areas: Teaching and learning science. Journal of Adolescent & Adult Literacy, 52(2), 155-165. https://doi.org/http://dx.doi.org/10.1598/JAAL.52.2.6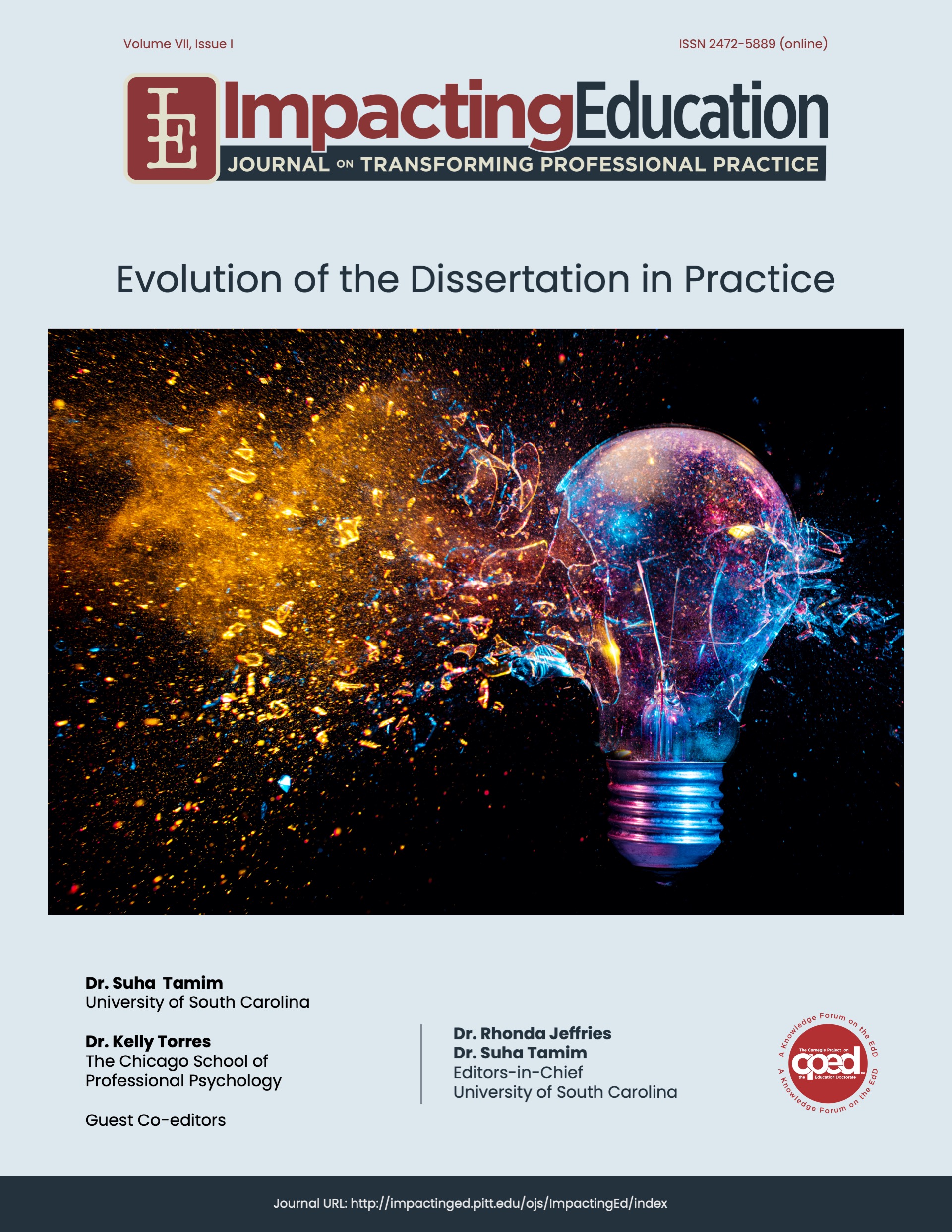 Downloads
How to Cite
Bjorn, G. A., Quaynor, L., & Burgasser, A. J. (2022). Reading Research for Writing: Co-Constructing Core Skills Using Primary Literature. Impacting Education: Journal on Transforming Professional Practice, 7(1), 47–58. https://doi.org/10.5195/ie.2022.237
License
Authors who publish with this journal agree to the following terms:
The Author retains copyright in the Work, where the term "Work" shall include all digital objects that may result in subsequent electronic publication or distribution.
Upon acceptance of the Work, the author shall grant to the Publisher the right of first publication of the Work.
The Author shall grant to the Publisher and its agents the nonexclusive perpetual right and license to publish, archive, and make accessible the Work in whole or in part in all forms of media now or hereafter known under a Creative Commons Attribution 4.0 International License or its equivalent, which, for the avoidance of doubt, allows others to copy, distribute, and transmit the Work under the following conditions:

Attribution—other users must attribute the Work in the manner specified by the author as indicated on the journal Web site;

with the understanding that the above condition can be waived with permission from the Author and that where the Work or any of its elements is in the public domain under applicable law, that status is in no way affected by the license.
The Author is able to enter into separate, additional contractual arrangements for the nonexclusive distribution of the journal's published version of the Work (e.g., post it to an institutional repository or publish it in a book), as long as there is provided in the document an acknowledgement of its initial publication in this journal.
Authors are permitted and encouraged to post online a prepublication manuscript (but not the Publisher's final formatted PDF version of the Work) in institutional repositories or on their Websites prior to and during the submission process, as it can lead to productive exchanges, as well as earlier and greater citation of published work. Any such posting made before acceptance and publication of the Work shall be updated upon publication to include a reference to the Publisher-assigned DOI (Digital Object Identifier) and a link to the online abstract for the final published Work in the Journal.
Upon Publisher's request, the Author agrees to furnish promptly to Publisher, at the Author's own expense, written evidence of the permissions, licenses, and consents for use of third-party material included within the Work, except as determined by Publisher to be covered by the principles of Fair Use.
The Author represents and warrants that:

the Work is the Author's original work;
the Author has not transferred, and will not transfer, exclusive rights in the Work to any third party;
the Work is not pending review or under consideration by another publisher;
the Work has not previously been published;
the Work contains no misrepresentation or infringement of the Work or property of other authors or third parties; and
the Work contains no libel, invasion of privacy, or other unlawful matter.

The Author agrees to indemnify and hold Publisher harmless from Author's breach of the representations and warranties contained in Paragraph 6 above, as well as any claim or proceeding relating to Publisher's use and publication of any content contained in the Work, including third-party content.
Revised 7/16/2018. Revision Description: Removed outdated link.