Consultancy Communities of Practice
The Group Consultancy Project as a Promising Model for Scholarly Practitioner Development
Keywords:
scholarly practitioner identity, research skills, communities of practice, education doctorate, consultancy project
Abstract
The last two decades have witnessed an ongoing effort to re-design the education doctorate to prepare practitioners to conduct research as a key aspect of their practice. As part of the reform, Carnegie Project on the Education Doctorate (CPED) members have tried to ensure the delivery of a relevant practice-based curriculum that prepares practitioners to respond to local needs. This article examines how one U.S. EdD program uses a practice-based pedagogy, called the Group Consultancy Project, to develop students as scholarly practitioners, that is, educational leaders who conduct research to enact positive societal changes. The analysis draws from final consultancy reports and from the responses of 11 students in three consultancy projects. By examining how students learned within the projects, the study reveals that the consultancy model cultivated communities of practice that moved students from a practice community toward a community of scholars and researchers.
References
Austin, A. E., & McDaniels, M. (2006). Using doctoral education to prepare faculty to work within Boyer's four domains of scholarship. New Directions for Institutional Research, 2006(129), 51–65.
Bengston, E., Lasater, K., Murphy-Lee, M. M., & Jones, S. J. (2016). The role of research courses. In J. A. Perry (Ed.), The EdD and the scholarly practitioner: The CPED path, (pp. 79-104). Information Age Publishing.
Boud, D., Costley, C., Marshall, S., & Sutton, B. (2020). Impacts of a professional practice doctorate: A collaborative enquiry. Higher Education Research & Development, 40(3), 431–445. https://doi.org/10.1080/07294360.2020.1765744
Colwill, D. A. (2012). Education of the scholar practitioner in organization development. Information Age Publishing.
Costley, C., & Fulton, J. (2019). Methodologies for practice research: Approaches for professional doctorates. SAGE.
Dana, N., Rigney, J., Vescio, V., & Ma, V. W. (2021). Project-based learning in doctoral student research skill development: A case study. Impacting Education: Journal of Transforming Professional Practice, 6(4), 27–35.
Demirbag, J. R. (2015). Giving voice through the practitioner based Ed.D. program. In V. Stead (Ed.), The education doctorate (Ed.D.): Issues of access, diversity, social justice, and community leadership (pp. 237-246). Peter Lang Publishing.
Firestone, W. A., Perry, J. A., Leland, A. S., & McKeon, R. T. (2019). Teaching research and data use in the education doctorate. Journal of Research on Leadership Education, 16(1), 81–102. https://doi.org/10.1177/1942775119872231
Fuller, A., Hodkinson, H., Hodkinson, P., & Unwin, L. (2005). Learning as peripheral participation in communities of practice: A reassessment of key concepts in workplace learning. British Educational Research Journal, 31(1), 49–68.
Golde, C. M. (2007). Signature pedagogies in doctoral education: Are they adaptable for the preparation of education researchers? Educational Researcher, 36(6), 344–351. https://doi.org/10.3102/0013189X07308301
Golde, C. M. (2013). Afterward: mapping the transformation of the EdD student. In J. A. Perry & D. L. Carlson (Eds)., In their own words: A journey to the stewardship of the practice of education (pp. 139-148). Information Age.
Hildreth, P. M., & Kimble, C., (2004). Knowledge networks: Innovation through communities of practice. (Eds.). Igi Global.
Hochbein, C., & Perry, A. J. (2013). The role of research in the professional doctorate. Planning and Changing, 44(3/4), 181–195.
Huff, A. S., & Huff, J. O. (2001). Re-focusing the business school agenda. British Journal of Management, 12(1), 49–54.
Kennedy, B. L., Bondy, E., Dana, N. F., Vescio, V., & Ma, V. W. (2019). The development and enactment of practitioner scholarship among graduates from one online Ed.D. programme. Journal of Further and Higher Education, 44(5), 653–669. https://doi.org/10.1080/0309877x.2019.1576858
Lave, W. (1991). Situating learning in communities of practice." In L. Resnick, J. M. Levine, & S. D. Teasley (Eds.), Perspectives on socially shared cognition (pp. 63-82). American Psychological Association.
Lave, J., & Wenger, E., (1991). Situated learning: Legitimate peripheral participation. Cambridge University Press.
McClintock, C. (Ed.). (2004). The scholar practitioner model. Encyclopedia of Distributed Learning. 393–396.
Merriam, S. B., & Grenier, R. S. (2019). Qualitative research in practice: Examples for discussion and analysis. John Wiley & Sons, Incorporated.
Miles, M. B., Huberman, A. M, & Saldaña, J. (2014). Qualitative data analysis: A methods sourcebook (3rd ed.). SAGE.
Olson, K., & Clark, C. M. (2009). A signature pedagogy in doctoral education: The leader-scholar community. Educational Researcher, 38(3), 216–221.
Perry, J. A. (2016). The EdD and the scholarly practitioner: The CPED path (Ed.). Information Age Publishing.
Perry, J. A., & Abruzzo, E. (2020). Preparing the scholarly practitioner: The importance of socialization in CPED-influenced EdD programs. In J. Weidman & L. DeAngelo (Eds.), Socialization in higher education and the early career. Knowledge studies in higher education vol 7 (pp.129-146). Springer: Cham.
Pyrko, I., Dörfler, V., & Eden, C. (2019). Communities of practice in landscapes of practice. Management Learning, 50(4), 482–499. https://doi.org/10.1177/1350507619860854
Schön, D. (1983). The reflective practitioner: How professionals think in action. Basic Books.
Shulman, L., Golde, C. M., Bueschel, A. C., & Garabedian, K. J. (2006). Reclaiming education's doctorates: A critique and a proposal. Educational Researcher, 3(3), 25–32.
Shulman, L. S. (2005). Signature pedagogies in the professions. Daedalus, 134(3), 52–59.
Smrekar, C., & McGraner, K. (2009). From curriculum alignment to the culminating project: The Peabody College Ed.D. capstone. Peabody Journal of Education, 84(1), 48–60.
Storey, V. A., Caskey, M. M., Hesbol, K. A., Marshall, J. E., Maughan, B., & Dolan, A. W. (2015). Examining EdD dissertations in practice: The Carnegie Project on the Education Doctorate. International HETL Review, 5, Article 2.
Smith, T. (2008). Fostering a praxis stance in pre-service teacher education. In S. Kemmis & T. Smith (Eds), Enabling praxis: Challenges for education (pp. 65-84). Sense.
Sullivan, W. (2005). Work and integrity (2nd ed.). Jossey-Bass.
Tamir, E., & Wilson, S. M. (2005). Who should guard the gates? Evidentiary and professional warrants for claiming jurisdiction. Journal of Teacher Education, 56(4), 332–342. https://doi.org/10.1177/0022487105279840
Wenger, E. (1998). Communities of practice: Learning, meaning, and identity. Cambridge University Press.
Wenger, E., McDermott, R., & Snyder, W. (2002). Cultivating Communities of Practice: A guide to managing knowledge. Harvard Business School Press.
Wenger, E., White, N., & Smith, J. D. (2009). Digital habitat: Stewarding technology for communities. CPSquare.
Wenger-Trayner, E., O'Creevy, M. F., Hutchinson, S., Kubiak, B. C., & Wenger-Trayner, B. (2014). Learning in landscape of practice. Routledge.
Wenger-Trayner, E., & Wenger-Trayner, B. (2015). Learning in a landscape of practice: A framework. In E. Wenger-Trayner, M. Fenton-O'Creevy, S. Hutchinson, C. Kubiak, & B. Wenger-Trayner (Eds.), Learning in landscapes of practice: Boundaries, identity, and knowledgeability in practice-based learning (pp. 13-29). Routledge.
Wergin, J. (2011). Rebooting the EdD. Harvard Educational Review, 81(1), 119–140.
Willis, J. W., Inman, D., & Valenti, R. (2010). Completing a professional practice dissertation: A guide for doctoral students and faculty. Information Age Press.
Zambo, D., Buss, R., & Zambo, R. (2013). Uncovering the identities of students and graduates in a CPED-influenced EdD program. Studies in Higher Education, 40(2), 233–252. https://doi.org/10.1080/03075079.2013.823932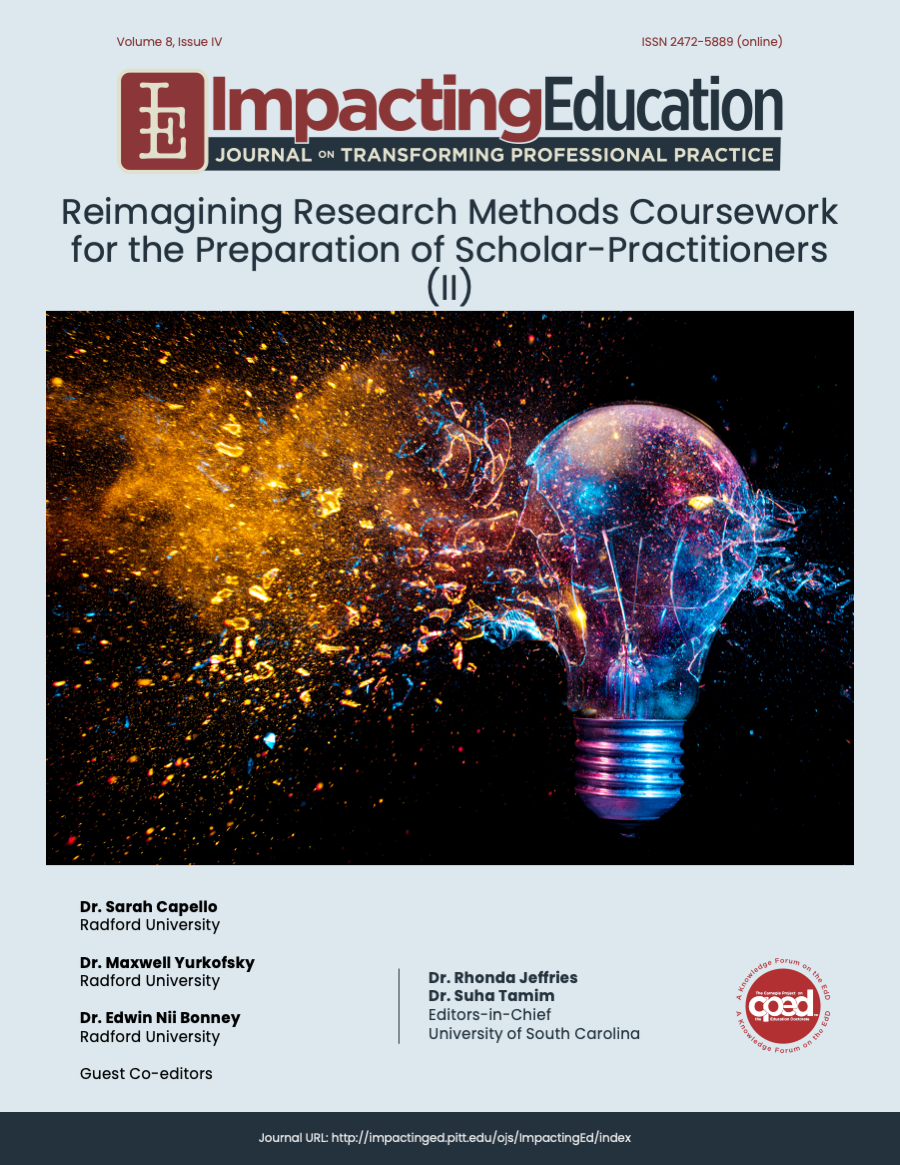 Downloads
How to Cite
Lambrev, V. S. (2023). Consultancy Communities of Practice: The Group Consultancy Project as a Promising Model for Scholarly Practitioner Development. Impacting Education: Journal on Transforming Professional Practice, 8(4), 11–19. https://doi.org/10.5195/ie.2023.331
Section
Themed-Reimagining Research Methods Coursework for the Preparation of Scholar-Practitioners
License
Copyright (c) 2023 Veselina S. Lambrev
This work is licensed under a Creative Commons Attribution 4.0 International License.
Authors who publish with this journal agree to the following terms:
The Author retains copyright in the Work, where the term "Work" shall include all digital objects that may result in subsequent electronic publication or distribution.
Upon acceptance of the Work, the author shall grant to the Publisher the right of first publication of the Work.
The Author shall grant to the Publisher and its agents the nonexclusive perpetual right and license to publish, archive, and make accessible the Work in whole or in part in all forms of media now or hereafter known under a Creative Commons Attribution 4.0 International License or its equivalent, which, for the avoidance of doubt, allows others to copy, distribute, and transmit the Work under the following conditions:

Attribution—other users must attribute the Work in the manner specified by the author as indicated on the journal Web site;

with the understanding that the above condition can be waived with permission from the Author and that where the Work or any of its elements is in the public domain under applicable law, that status is in no way affected by the license.
The Author is able to enter into separate, additional contractual arrangements for the nonexclusive distribution of the journal's published version of the Work (e.g., post it to an institutional repository or publish it in a book), as long as there is provided in the document an acknowledgement of its initial publication in this journal.
Authors are permitted and encouraged to post online a prepublication manuscript (but not the Publisher's final formatted PDF version of the Work) in institutional repositories or on their Websites prior to and during the submission process, as it can lead to productive exchanges, as well as earlier and greater citation of published work. Any such posting made before acceptance and publication of the Work shall be updated upon publication to include a reference to the Publisher-assigned DOI (Digital Object Identifier) and a link to the online abstract for the final published Work in the Journal.
Upon Publisher's request, the Author agrees to furnish promptly to Publisher, at the Author's own expense, written evidence of the permissions, licenses, and consents for use of third-party material included within the Work, except as determined by Publisher to be covered by the principles of Fair Use.
The Author represents and warrants that:

the Work is the Author's original work;
the Author has not transferred, and will not transfer, exclusive rights in the Work to any third party;
the Work is not pending review or under consideration by another publisher;
the Work has not previously been published;
the Work contains no misrepresentation or infringement of the Work or property of other authors or third parties; and
the Work contains no libel, invasion of privacy, or other unlawful matter.

The Author agrees to indemnify and hold Publisher harmless from Author's breach of the representations and warranties contained in Paragraph 6 above, as well as any claim or proceeding relating to Publisher's use and publication of any content contained in the Work, including third-party content.
Revised 7/16/2018. Revision Description: Removed outdated link.